Red Hawk Realty's Houses With Horse Property For Sale
Is it possible to find a investment worthy horse ranch in San Diego County? We think so! We have fantastic horse properties for sale throughout California and if you don't see a listing featured here, contact us and we can help you find your ideal horse ranch and location. San Diego County has a vibrant equestrian community with events like the Ramona rodeo, Del Mar fairgrounds and the horse expo in Pomona California.
Things to Look for in Ranches for Sale in California
When working with a real estate agent on a horse ranch for sale, clients must look for these essentials to make the perfect horse property.
Land – Make sure the land isn't too steep, to heavily wooded or too marshy. The land must be suitable for horses to walk without injury and must be flat in areas for storing food, water and grain. It's also important to know where the horse pee and poo will drain or be added to a manure pile. Lastly, make sure the land is zone  with the correct designator – more on that below.
What types of buildings are already on the property? Barns, sheds and other storage is needed for proper horse care. If the horse ranch for sale has these, make sure you know which is which and where improvements will be needed, if any. Also think about where to keep you tack (equipment for riding, grooming, and medical supplies) because these things will eat up every available square foot of your ranch property.
Check the fences – Fences must be built properly and tended to on a regular basis. Check for the condition of the wood, look for loose nails, and other essentials for a good fence. Barbed wire should never be used to fence horses in.
Can you ride out? What does trail access look like from the horse property? Many properties advertise "miles of trails!" but without a public route, it's impossible to reach these trails legally. Make sure you know the difference between public trails, easements and private property.
Are there training areas on this horse ranch? What do they look like? What surfaces are they made of? Arenas can be a huge selling point due to their ease of maintenance and general usability.
Is there access for vets, farriers and trailers? Horses can require a lot of medical support. Having an easy path for vets to enter and leave your property is essential. Also, if you plan on transporting your horses or having feed and hay delivered, proper access to your ranch is a major consideration.
Storage & Parking for farm equipment – If you plan on having "toys" or doing your own land maintenance, think about where you're going to park things like tractors, atvs and other equipment.
Consider bad weather, natural disasters and evacuation plans – Although snow and flooding are rare, California wildfires and earthquakes are not uncommon in San Diego County. Plan an evacuation plan for yourself, your family and horses from your potential property.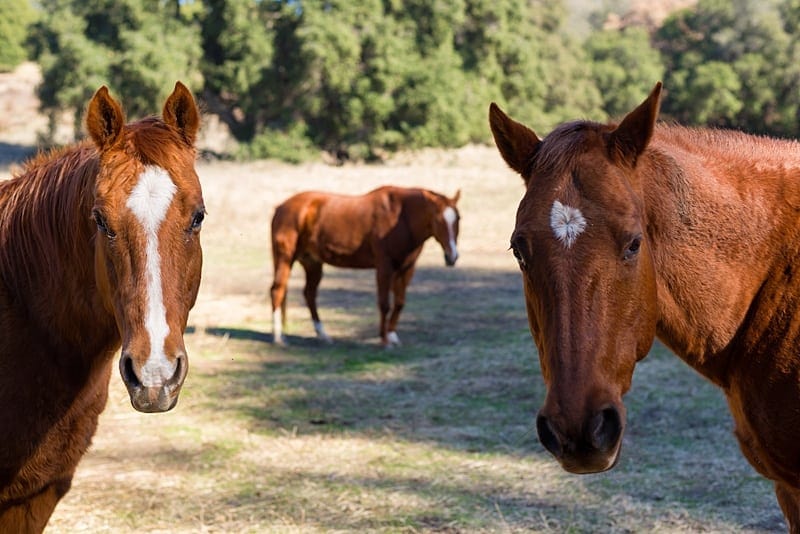 San Diego County Animal Regulations For Horse Properties
The County of San Diego has specific designators that restrict certain properties to use types and animal density limits. The sought after "O" Designator enables our selected properties to include horse stables, kennels and animal raising projects required to operate a horse property in San Diego. Make sure that you confirm that your prospective horse property for sale has this designation!

Investing in Horse Ranches For Sale in California
According to the U.S. Equine Market Report, the market is trending up after years of steady decline, indicating that investment in a horse ranch or houses with horse property for sale will yield positive returns, particularly in the San Diego county market. Horseback riding is still popular among young adults (Gen X and Millennials), posing a potential business investment in horse ranches for sale in California. You will find a strong community associated with horse properties for sale throughout San Diego county with miles of gentle rolling hills for trail riding. Speak to one of our agents and we can help you find the perfect ranch property for sale.
We know horse ranches for sale in California, let us help you find your next equine property.
Our Horse Properties for Sale in California